Subscribe: RSS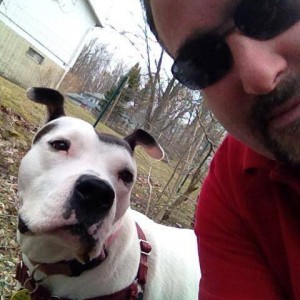 Episode nine may leave you hungry, very very hungry. We chat with Mark Anbinder, Web Communications Manager at Cornell University and food enthusiast, among other things. Mark introduces us to his two adorable pitbulls and chats with us about Cornell hockey, which are two of his other passions. In the higher ed realm, we discuss the difference between a good app and a good mobile site, and how to figure out what the best decision is. Most of all, we talk about food; all types of it. Come hungry!
Links to cool stuff:
Mark's Slow Cooker Pulled Pork recipe:
1/2 a beer
some molasses
some worcestershire sauce
splash of cider vinegar
Optional: add an orange rind or apple slices for fruitiness, or hot sauce for a kick!
Mark's Slow Cooker Chili recipe:
Ground Beef
Pork loin, London Broil or some other cut of meat
Diced Onion
Diced Red or Orange Pepper
Minced habanero or similar hot pepper of your preference
Can of Diced Tomatoes
Can of Tomato Paste
Canola Oil
Half a Beer
Quarter cup of cocoa powder
Chili Powder
Cumin
Black Pepper
Sweat a diced onion, a diced red or orange pepper and a minced habanero or similar hot pepper of your preference in a little canola oil in a skillet over medium heat. Add ground beef and half-inch to 3/4-inch chunks of pork loin, london broil, or other cut of meat that works well low-and-slow. Cook, stirring occasionally, until all the meat is browned.
Drain any excess fat, and transfer to a Crock-Pot. Add a can of diced tomatoes, a can of whole tomatoes drained, a can of tomato paste, and a half a beer, plus chili powder, cumin, cocoa powder and black pepper to taste. Cook on low all day.Top with sour cream and shredded cheddar, and serve with fresh corn bread.
Mark's Cornbread recipe:
1-1/2 cups of pancake mix such as Bisquick
1/2 cup of corn meal
1/4 cup of sugar
1 stick butter, melted
1 cup milk
2 large eggs
Preheat the oven to 400 degrees, with a cast iron skillet inside.
In a mixing bowl, mix all of the ingredients by hand, starting with the dry ones. It'll all dissolve easily, and mix into a smooth batter with just a spoon.
Caution! Cast iron sitting in oven gets hot! Remove skillet with a potholder, place it on a trivet or stove burner, and lightly grease it with a little butter or a natural butter or oil spray. Spoon the batter into the skillet all at once; it will start to cook pretty much as soon as it hits the hot cast iron. This is the point; it makes a nice crust. (Don't have cast iron? Get some. It's cheap. Meantime, use a glass baking dish instead.)
Caution! Cast iron is still hot! Place the skillet back in the oven with a potholder, and bake for 20-25 minutes until golden. Lick spoon. (If you trust your eggs' freshness. I do.)
Caution! Cast iron is very hot! Remove the skillet with a potholder and test that the cornbread is done by sticking a thin knife or a toothpick in, and seeing if it comes out clean. If so, it's done. Allow to cool. The cast iron will stay hot for quite a while. Really. Don't touch it. (No, I didn't! Just making sure you don't.)